If you work in a sprawling office with lots of colleagues, then it's possible the main impression the people at the top have of you will be the way you dress. Whether you're in a cubicle or a corner office, the way you dress can be a key determining process on your future career path. Mr Porter shows you how to be the smartest guy, as well as the one who's made the smart choice.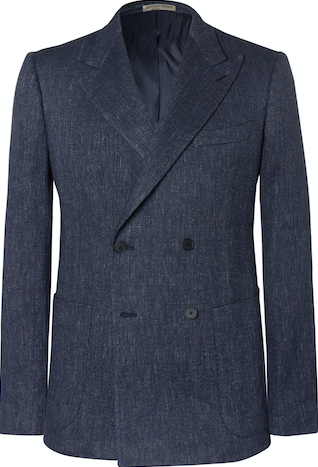 The modern double breasted jacket is form-fitted, streamlined and supremely well-tailored, and has become the shape of things to come. This peak-lapel blazer is woven with linen and wool for a tactile feel and has slightly padded shoulders to give the wearer a commanding and authoritative V-shape when needed in meetings by accentuating the masculine broadness of the shoulder, whilst the closed back creates a leaner shape through the body.
Many offices now have an open-neck shirt and no-tie dress code. To elevate this, make sure you are wearing good quality tailored separates and a shirt with a stiff-enough collar that will stand up without the support of a tie knot and not slip down – for example, this blue Bengal-stripe shirt from Emma Willis. This shirt in particular is cut from comfortable, breathable cotton with buttoned cuffs which will easily accommodate a statement watch.

Accompany the double breasted blazer with trousers which are clearly not part of the same suit, but each has a similar fleck in the fabric which ties them together. The grey Ermenegildo Zegna trousers have a very subtle Prince of Wales check and some woven-in stretch which makes them comfortable to wear when sitting at a desk or at a long lunch.
English heritage company Cheaney continues to be the choice of discerning gentlemen. The suede penny loafers are versatile, perfect for meetings and also go well with everyday casual. Individually crafted in Northamptonshire from tactile suede with Goodyear®-welted leather soles, these streamlined 'Hudson' penny loafers will stand the test of time.
---
Sam Kershaw
Sam Kershaw was previously Accessories Buyer at Mr Porter, before becoming Luxury and Casualwear Buyer at Mr Porter. Previous to that, he was Designer and Formalwear Buyer at Harvey Nichols.
---
This article was published in The Produktkulturmagazin, issue Q4 2016. Picture credit © Mr Porter